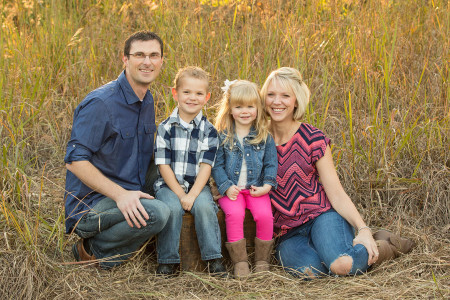 My name is Lauren, and I am a self-made photographer. Ashley is my middle name. Many of you know me by Lauren Bushlack, don't worry, I'm the same person. I'm a perfectionist and am left-brained. I studied Biomedical Science at Texas A&M University (Whoooop) and wanted to be a Pediatrician cause I love kids and helping people feel better. But then I met my now husband Johnse, and decided that he was worth changing my lifelong goals for. 🙂 But I still wanted to help people in the medical field. So I enrolled at the University of Iowa and got my Masters in Nursing and became an LPRN at the Helen G. Nassif Birthcare Center in Cedar Rapids, IA in 2006. I loved my job, and loved helping couples deliver their new babies into this world. The profession of a labor and delivery nurse is fun and exciting and an emotional experience every time as you help deliver new life. But I didn't have any children of my own, and there was no way for me to fully understand the feeling that my patients were experiencing (if you've had children, you know exactly what I mean)……until we were blessed with our son Micah in 2009.
Like my husband, Micah changed my life. My priorities in life changed in an instant. I didn't want to be away from our son, and the 12 weeks maternity leave passed by in a blink. It was back to work, but I decided to cut back to part time in order to stay home more with our new babe. Babies change and grow so fast, and they make the cutest little faces, and as parents you want to capture each one of them. I grew frustratingly impatient with our point and shoot camera each time I hit the shutter, only to have a delay of a couple seconds before the camera captured the image….and it was always just in time to miss the window of opportunity of that sweet little expression.
We entered the world of the DSLR cameras, and figured this would change everything and magically improve the quality of the pictures we took. Well it did kind of, but my expectations were higher based on images I was comparing them to. But strangely enough, it was my husband at this point that studied the DSLR and began learning the technical aspects of photography in order to capture the images with the effects that we wanted. Two more years past with mediocre photos (because my husband had too many hobbies to focus on any one of them), and then we were blessed with a little baby girl, Jacey in March of 2012.
This time, we were going to have her newborn photos taken professionally. This photo session sparked something inside of me and piqued my interest to dig deeper into the art of photography than I had ever had before. After baby number two, I went even more part time at the birthcare center, but somehow had even less time (if you've got children, you know exactly what this is like). But I spent the late night feeding sessions studying the craft online and joined photography forums and read blogs, you name it, I read it. And I practiced.
While I've never thought of myself creative and didn't think I was cut out for photography, I quickly learned that photography is way more technical than I ever realized before. The perfectionist in me that loves children and little newborn babies just happened upon a new found passion in photography.
I would say that I'm learning to be creative, and while photography certainly requires a good eye, the table stakes to even begin in this profession requires a very technical understanding of the triad: shutter speed, aperture and ISO…and of course lighting and composition and posing, etc. There are way more details than I care to get into here, but it was this technical aspect of photography that initially got me hooked on the challenge.
I was blessed with two beautiful models to practice on, and my knowledge and experience from my day (and night) job in the labor and delivery unit prepared me to be comfortable and work with babies, and frankly to provide valuable insight and comfort to my clients going through their maternity and newborn months. When you work with me, our conversations are likely to go in a number of different ways as it relates to birthing your children to the challenge of parenting, and the range of emotions that mothers experience. I can assure you, you're not alone.
I'm a newborn and children portrait photographer. I have since "retired" from the nursing profession to pursue my love of photography, and be able to be at home with my two amazing children. This is my love and passion, and I love what I do.
If you're looking to stop time and capture your child's sweet expressions, no matter what age they are, I'd love to hear from you and help you do just that.
Lauren